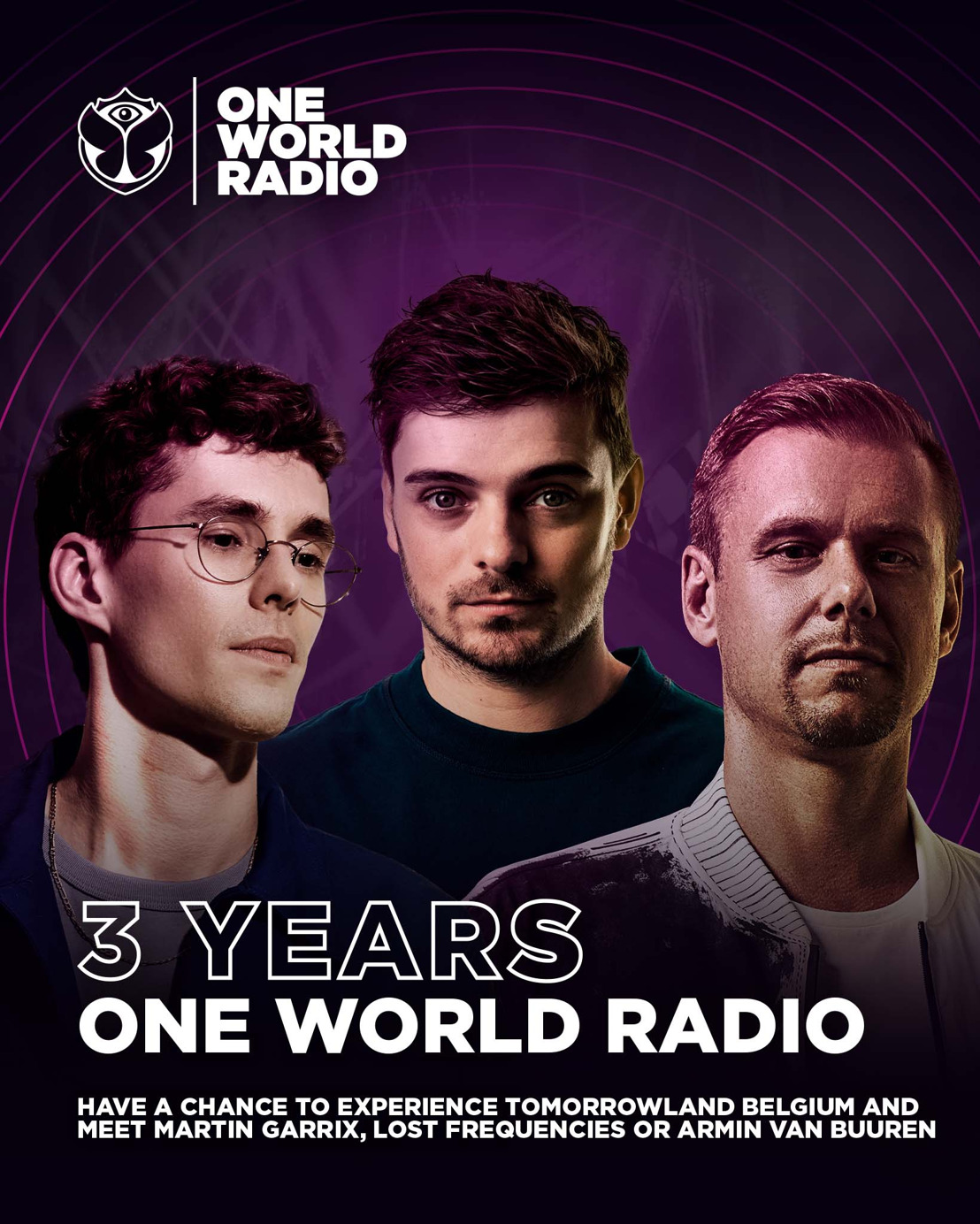 3 Years One World Radio
Tune in all week long and have a chance to experience Tomorrowland and meet your favorite artist
Monday, 14 February 2022 - Tomorrowland's One World Radio is turning 3 years old this Friday February 18th! To celebrate its 3rdanniversary in style, the digital radio & content platform is hosting a very special contest for the People of Tomorrow, exclusively via the Tomorrowland App. Not only will music fans around the world have a chance of securing a once-in-a-lifetime experience at Tomorrowland Belgium 2022, but also a unique meet-and-greet with world-class artists Armin van Buuren, Lost Frequencies or Martin Garrix…
From Monday February 14th to Thursday February 17th, multiple records by Armin van Buuren, Lost Frequencies and Martin Garrix will be played on One World Radio. Each time a song of one of those 3 artists comes on, a special page will pop up in the Tomorrowland App, inviting people to join the contest. By logging in to their Tomorrowland Account, fans can pick one of the 3 artists for a meet-and-greet and submit their choice – that's it! At the end of the week, 6 lucky people will be selected with a tiebreaker question – 2 people per artist. Each of them will have to compete in the grand finale quiz via Zoom hosted by One World Radio host Adam K, having to answers questions about their favorite artist for 1 minute. The final winner will receive 2 Full Madness Passes and a meet-and-greet with the artist of their choice. ​
From a temporary party to a timeless keeper
​In February 2019, Tomorrowland celebrated its magical 15th anniversary with the launch of its very own digital radio station & content platform One World Radio. What initially started as a special temporary 15-year anniversary project turned into an enduring success story and a permanent radio station that has been a popular hub for electronic music lovers across all genres and borders for 3 years now – every day, a range of international DJs play the hottest hits and grooves, while the programming and music schedule is adapted to the time of day, 24/7 live in the mix. Broadcasting the sound of Tomorrowland to millions of listeners in more than 130 countries across the globe, all music and content on One World Radio and in the on-demand environment is created by the team behind Tomorrowland and is also still available live 24/7 via tomorrowland.com and the Tomorrowland App.
Tune in all week long to One World Radio and have a chance to experience Tomorrowland Belgium 2022 and meet your favorite artist! Make sure to create or update your Tomorrowland Account via my.tomorrowland.com and download the Tomorrowland App for iOS or Android.
Jordy Van Overmeire PR Coordinator, Tomorrowland