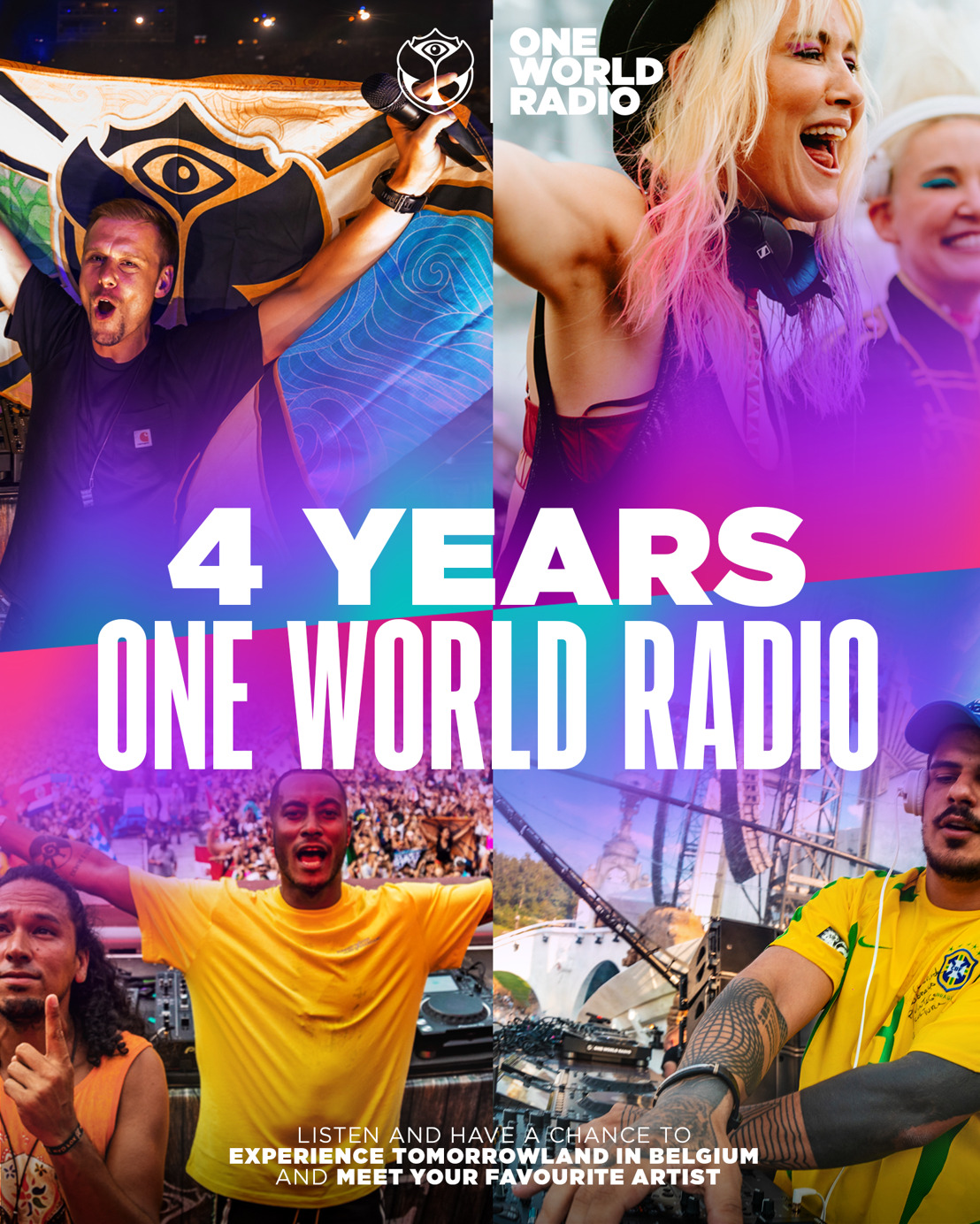 4 years One World Radio
Tune in all week long and have a chance to experience Tomorrowland and meet your favorite artist
Wednesday, 8 February 2023 - One World Radio, Tomorrowland's official radio station, is turning 4 years old next Saturday February 18! To celebrate in style, music fans around the world have the chance to secure a once-in-a-lifetime experience at Tomorrowland Belgium 2023, as well as a unique meet-and-greet with world-class artists Armin van Buuren, NERVO, Sunnery James & Ryan Marciano, or Vintage Culture! One World Radio is hosting this very special contest exclusively via tomorrowland.com and the Tomorrowland App.
From Monday February 13 to Friday February 17, every day between 9:00 CET and 18:00 CET, multiple records by Armin van Buuren, NERVO, Sunnery James & Ryan Marciano or Vintage Culture will be played on One World Radio. Listen all week long and count each time a song of one of those 4 artists comes on and fill in a special form on tomorrowland.com on Friday February 17, available for 24 hours only. If you are the first with the correct answer, you win – that's it! The final winner will receive 2 Magnificent Greens Packages and a meet-and-greet with the artist of their choice. People can find the exact rules on tomorrowland.com or the Tomorrowland App.
On top of that, no better way to celebrate this milestone than with a brand-new Tomorrowland Friendship Mix curated by the Belgian brothers Dimitri Vegas & Like Mike. Going from one drop to another, listeners can also tune in to One World Radio on Saturday February 18 and Sunday February 19 – one legendary party with the best party music all day and night long to celebrate the 4-year-anniversary.
Millions of listeners in more than 130 countries
​In February 2019, Tomorrowland celebrated its 15th anniversary with the launch of its own radio station One World Radio. What initially started as a temporary project turned into an enduring success story and a permanent radio station that has been a popular hub for millions of electronic music lovers across more than 130 countries for 4 years now, available live 24/7 via tomorrowland.com and the Tomorrowland App. Every day, a range of regular hosts and international DJs based in studios around the world play the hottest hits and grooves, while the programming and music schedule is adapted to the time of day. Listeners who tune in to One World Radio are treated to unique music, live sets and new tracks and shows from both established names and emerging talent at any time of the day. People in Belgium, the Netherlands, Switzerland, the United Kingdom, and Malta can also listen to One World Radio via DAB+ and via FM in Romania and Spain.
Tune in all week long to One World Radio and have a chance to experience Tomorrowland Belgium 2023 and meet your favorite artist! Find all info on tomorrowland.com.
Jordy Van Overmeire PR Coordinator, Tomorrowland