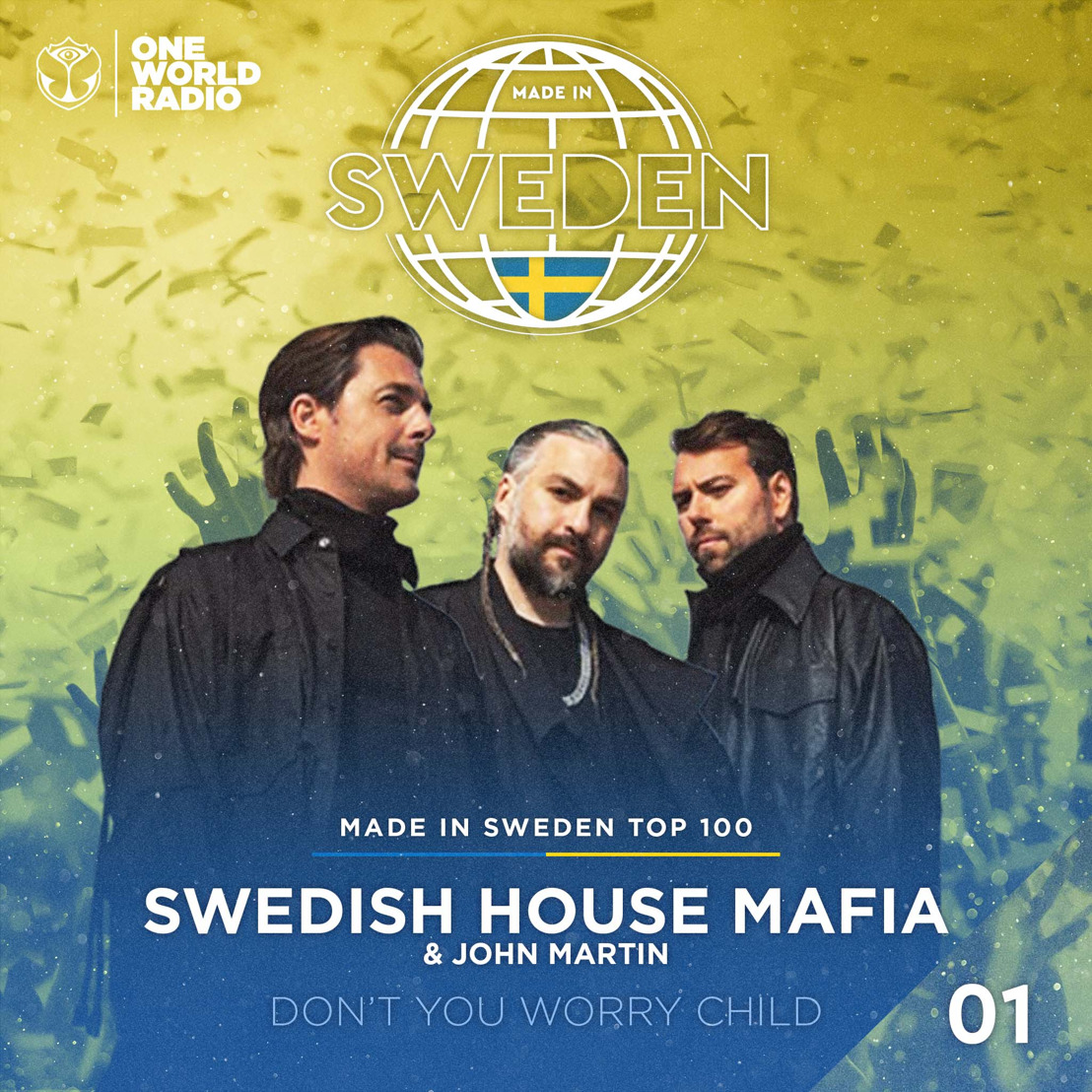 'Don't You Worry Child' by Swedish House Mafia becomes the number 1 in The Made in Sweden Top 100
Wrapping up an entire week of the best music in the history of Swedish Dance on One World Radio
Friday, 8 October 2021 - Every day for the past week, Tomorrowland's One World Radio has been taking listeners on a magical journey through the best music in the history of Swedish Dance as part of the entire Made in Sweden week. Today featured the countdown and grand finale of The Made in Sweden Top 100, after the People of Tomorrow massively voted for their favorite tracks and One World Radio compiled everything into the brand-new chart with the most iconic Swedish dance artists and tracks, featuring Adam Beyer, Alesso, Avicii, Dada Life, Eric Prydz, Galantis, Ida Engberg, Otto Knows, Salvatore Ganacci, Swedish House Mafia, and many more.
The legendary timeless classic 'Don't You Worry Child' by Swedish House Mafia has been voted as the absolute number 1 by music fans around the world. The late Avicii takes the 2nd place with his anthem 'Levels', while Sebastian Ingrosso, Tommy Trash and John Martin finish 3rd with their track 'Reload'.
The Top 10 of The Made in Sweden Top 100
Swedish House Mafia ft. John Martin – Don't You Worry Child

Avicii – Levels

Sebastian Ingrosso, Tommy Trash, John Martin – Reload

Alesso ft. Matthew Koma – Years

Axwell & Ingrosso – Sun Is Shining

Swedish House Mafia – Save The World

Alesso vs OneRepublic – If I Lose Myself

Avicii – Wake Me Up

Otto Knows – Million Voices

Tim Berg – Seek Bromance
Relive the entire Made in Sweden week and a bunch of special shows right here on-demand, including The Story of Swedish House Mafia, Wayback Luke – The History of Swedish Dance, Tomorrowland Friendship Mix by Alesso, Relive the Madness – Swedish Edition and Sunday Morning Playlist by Dada Life.
Relive The Made in Sweden Top 100 right here on Spotify.
5 fun facts about The Made in Sweden Top 100
1. Swedish legacy
​Did you know that the number 1 'Don't You Worry Child' by Swedish House Mafia counts with the participation of another Swedish artist? The vocals are from the Swedish singer John Martin. The iconic Swedish House Mafia have 8 tracks in the chart, while its members also played a big role separately. Axwell led it with 21 tracks, followed by Sebastian Ingrosso with 19 tracks and Steve Angello with 18 tracks.
2. Never forgotten
​The track 'Levels' (#2), released by Avicii in 2011, has vocal samples from Etta James's single 'Something's Got a Hold on Me'. The song from 1962 is almost 5 decades older than Avicii's track. With 'Levels' and many other tracks, the late Swedish DJ appears 16 times in this chart, with 3 tracks being in the top 10.
3. Based on true facts
​'Wake Me Up' (#8) was written by Avicii, Aloe Blacc and Mike Einziger, but according to Blacc, it all started with Avicii being inspired by his own life. Once, on the road, Avicii was constantly thinking and saying how incredible his achievements were, and that the life he was living was too good to be true. "Such a dream", he kept saying and someone should wake him up "when it's all over".
4. Take me back to 2012
​2012 was a special year with a lot of tracks that marked the history of electronic music, including many from this Made in Sweden Top 100. Otto Knows is part of this legacy, staying in the top 10 with 'Million Voices' (#9).
5. Undercover DJ
​Salvatore Ganacci made it to the Made in Sweden Top 100 with 'Horse' (#99), but have you ever seen him performing at Tomorrowland? He was the first artist to start his performance from the middle of the crowd! In 2019, the Swedish DJ was among the fans while he was being announced on the Mainstage. He was dancing like everybody and making fun around before actually starting the show!