NERVO are dishing up this week's Tomorrowland Friendship Mix with a NERVO-only playlist for the very first time
Australian twins talk about their unreleased record with 7 Skies, brand new release with Vini Vici, working with Avicii, and much more on One World Radio
Wednesday, 18 March 2020

- From songwriters to artists and superstars, electronic dance music's first sisters – Mim and Liv Nervo of NERVO – have staged a miraculous climb onto the international stage. The Australian twin sisters are the all-time top-ranking female DJs in the world – everywhere they go, their endless energy, fearless personal style, and deep love and understanding for music precedes them. The flamboyant DJ twins are hosting this week's Tomorrowland Friendship Mix on One World Radio – a uniquely curated one-hour guest mix – serving the listeners a NERVO-only playlist for the very first time.
"Believe it or not, this is the first time we have done a one-hour – from start to finish – NERVO-only playlist. Twenty-six records of only NERVO, and we had so much fun doing it.", according to Mim and Liv.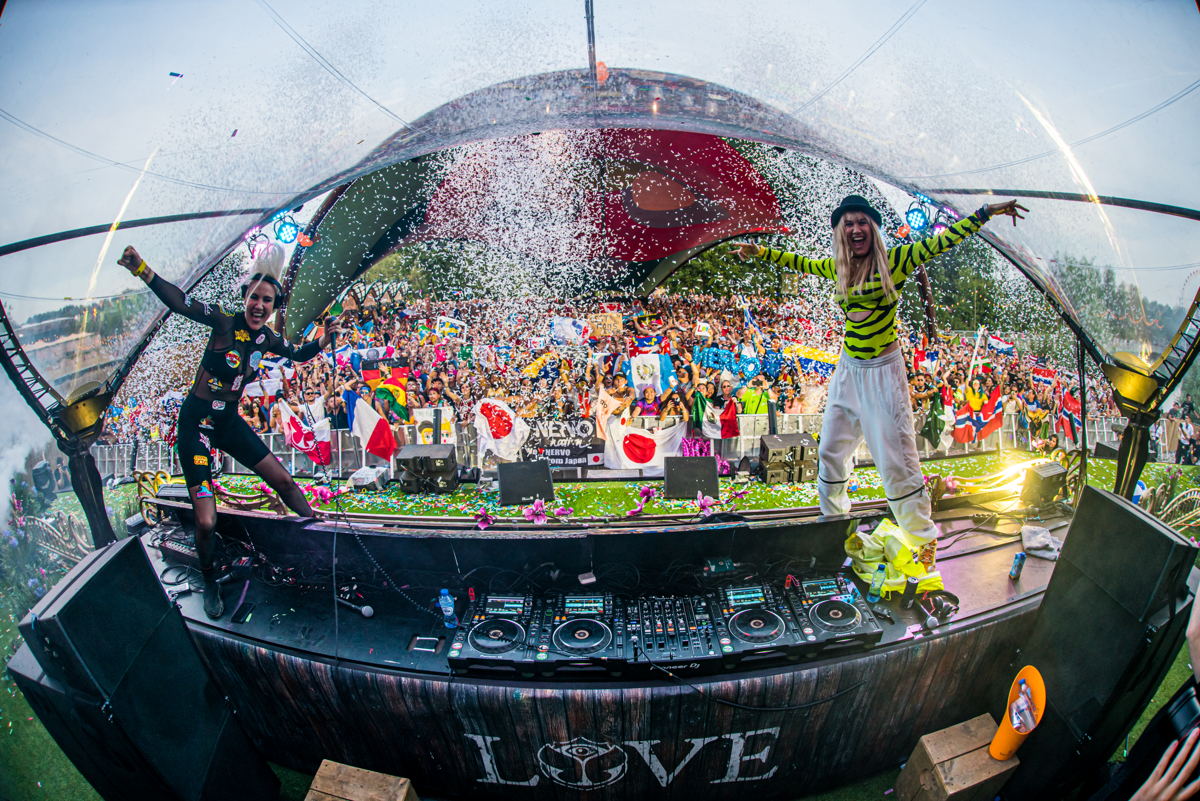 People listening to One World Radio can expect an energetic and explosive mix packed with the hottest NERVO records, including a couple of brand new and exclusive releases.
Mim reveals: "'Put Your Love On Me' is an unreleased record of our own. Liv and I are great at toplines and producing melodies but doing a dance drop is something we've always had a little bit of trouble with – that's just not our forte in music production. We sent this to our friend 7 Skies – he's a great Italian DJ and does a lot of collabs and productions with Tiësto. It's our vocal and we have heavily treated it with a lot of fun effects."
Just a couple of weeks ago, the Australian twin sisters also dropped their highly anticipated collab 'My World' with Vini Vici and Shapov: "We have been enormous fans of those boys for a long time. They were last-minute looking for a vocal, we sent them our idea and they loved it. The Vini Vici boys really introduced us to a lot of records that they drew inspiration from, so then we drew inspiration from those records for the topline."
The sisters also take a moment to reminisce the musical genius of Avicii: "Our second ever release as NERVO was 'You're Gonna Love Again' – we wrote this with the lovely Tim Bergling. Liv and I were living in Stockholm at that time and we had just won our Grammy for David Guetta for 'When Love Takes Over'. Tim actually reached out to us, saying he loved what we were doing. We got into the studio and 'You're Gonna Love Again' was the second record that was born from those sessions. It's one of our favorites, very emotional."
The Tomorrowland Friendship Mix by NERVO will debut exclusively on One World Radio on Thursday March 19 at 20:00 CET and will be available on multiple platforms afterwards: online, on the One World Radio app, YouTube, Spotify, SoundCloud, Apple Podcasts and Deezer.