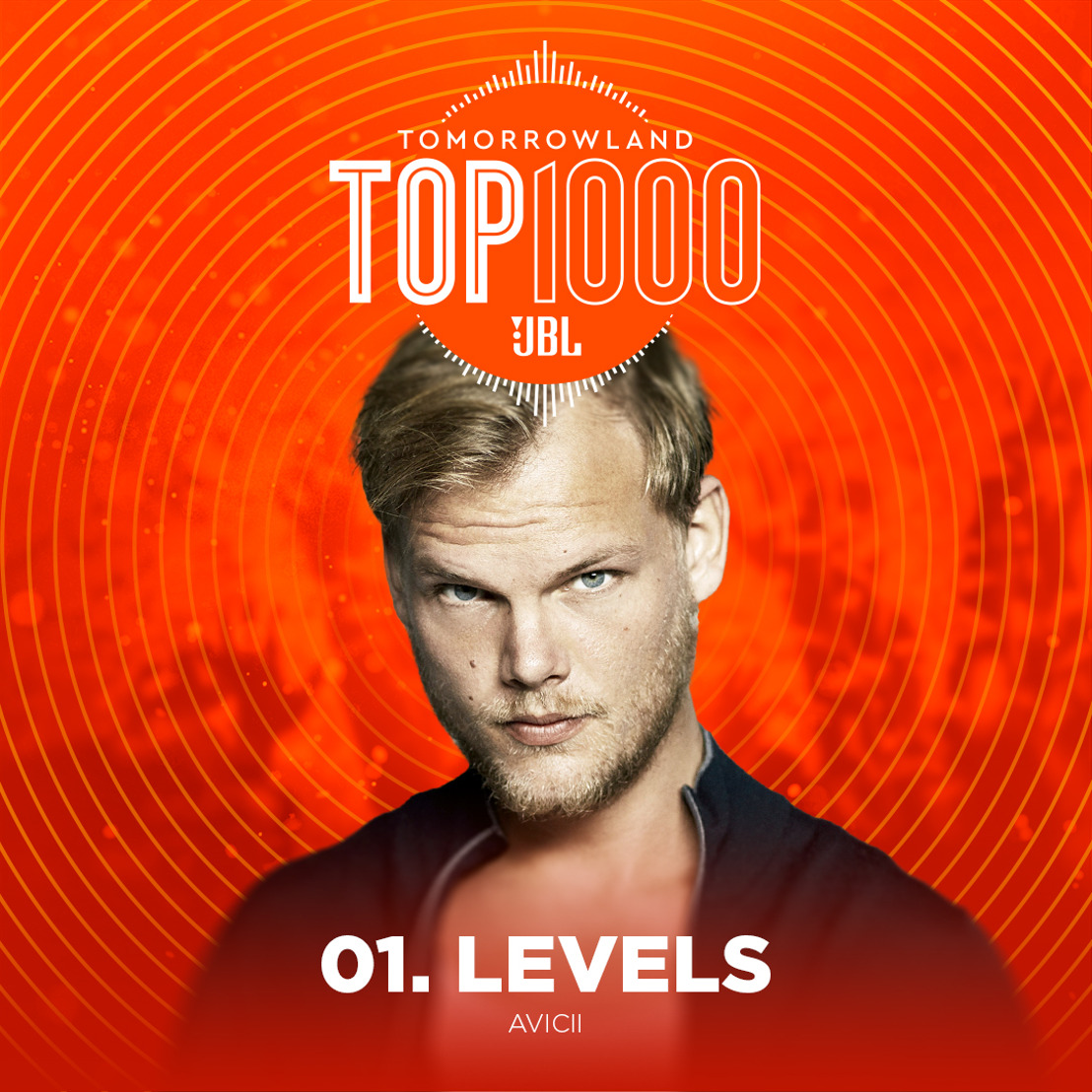 Avicii's Levels is the ultimate number 1 in the Tomorrowland Top 1000 for the second year in a row
Belgian brothers Dimitri Vegas & Like Mike finish a close second with 'Mammoth', Swedish House Mafia complete the top 3 with 'Don't You Worry Child'
Friday, 4 June 2021 - Music fans across the world massively voted for their favorite Tomorrowland Anthems in the Tomorrowland Top 1000. After compiling the 1000 most iconic tracks in the history of Tomorrowland into one list, One World Radio has taken listeners on a magical journey through music, counting down 100 tracks per day for the past two weeks. The late Avicii now takes the crown – for the second year in a row – with his legendary anthem 'Levels', one of his 21 tracks in the list. The Belgian brothers Dimitri Vegas & Like Mike finish on the second spot with 'Mammoth', while Swedish House Mafia take the third place with their iconic classic 'Don't You Worry Child'. In an exclusive interview with One World Radio, Klas Bergling – the father of the late Avicii – thanks the People of Tomorrow for voting his son's career-making signature song 'Levels' for the second year in a row as the ultimate number one in the Tomorrowland Top 1000.
Klas Bergling: "This is fantastic and I feel very honored. It's his piece, work and personality, so it's amazing. I'm very grateful and it makes me very emotional. I want to give all the People of Tomorrow a big hug!"
The Top 10 of the Tomorrowland Top 1000
1. Avicii – Levels (=)
​2. Dimitri Vegas & Like Mike, Moguai – Mammoth (=)
​3. Swedish House Mafia ft. John Martin – Don't You Worry Child (+6)
​4. Martin Garrix ft. Bonn – High On Life (+80)
​5. Armin van Buuren – Blah Blah Blah (+24)
​6. Sebastian Ingrosso & Tommy Trash ft. John Martin – Reload (+1)
​7. Dimitri Vegas & Like Mike ft. Martin Garrix – Tremor (+3)
​8. Tim Berg – Seek Bromance (+10)
​9. Afrojack ft. Martin Garrix – Turn Up The Speakers (-1)
​10. Kid Cudi – Pursuit Of Happiness (Steve Aoki Remix) (+1)
The Tomorrowland Top 1000 features an excitingly eclectic compilation with a mix of the biggest all-time radio hits, legendary classics and some of the past year's most popular bangers. With 5 new entries in the top 10 and 92 new entries overall, this year's list had listeners on the edge of their seats. Dutch superstar Martin Garrix is the most popular artist in the list with no less than 35 tracks, closely followed by the Swedish legend Axwell (32 tracks), Tiësto (31 tracks) and Armin van Buuren (31 tracks). Being a pioneering trio in the history of electronic music, Swedish House Mafia is the highest ranked trio, with all their released songs being featured in the list. The Netherlands is the country that is most represented in the Tomorrowland Top 1000 with plenty of Dutch artists, while Martin Garrix's collaboration 'Hold On' with Matisse & Sadko ends up as this year's highest new entry on number 129. Keanu Silva scores the highest climber with his remix of Lost Frequencies' track 'Like I Love You', climbing 673 spots all the way up to number 201.
The thrilling Grand Finale was turned into a unique live show with this year's Top 10 countdown of the final 10 Tomorrowland Anthems and the ultimate number 1 broadcasted by One World Radio host Adam K. A bunch of special guests joined the show to talk about their track in the Top 10 and share exclusive stories with music fans around the world.
Dimitri Vegas talks about 'Mammoth' (2): "I think it was probably the biggest record of the Tomorrowland Aftermovie of 2012. This was the first one that really exploded and became synonymous for Tomorrowland over the years."
John Martin talks about 'Don't You Worry Child' (3): "I remember the very first time we played this song to a live audience – it was very emotional to hear that people really took the song to their hearts. To this day, it's still feels like it connects with people, which is fantastic for a 10-year-old song. Fun fact: the melody for 'Don't You Worry Child' – the actual words – we had them as placeholders. We were always thinking we would change the lyrics for that one, because we thought it was corny to sing it. Then we started writing lyrics and we built a story around that."
Armin van Buuren talks about 'Blah Blah Blah' (5): "It was released a couple of months prior to Tomorrowland and it was my biggest streaming track ever. It was really meant as a DJ tool for myself and I started doing this thing with my hands and all of a sudden it became one of my biggest tracks – I never expected a track like that to blow up like that."
Afrojack talks about 'Turn Up The Speakers' (9): "It's amazing that we made it to the top 10! We always knew it was a big song, but number 9 is very impressive. I play this track in all my sets and it always works – no matter what the hype is."
Steve Aoki talks about 'Pursuit Of Happiness' (10): "I remember when I made the remix back in 2009, playing it for the first time in my own small club in Los Angeles. Kid Cudi was one of my dear friends and he came to the club and we played it in our booth in front of like 40 people – it was the craziest moment. Kid Cudi standing on the booth, singing on his track and he was so hyped he started taking off his jewelry and giving it away to people."
Relive the Grand Finale of the Tomorrowland Top 1000 on YouTube and check out the Tomorrowland Top 1000 Official Playlist on Spotify.