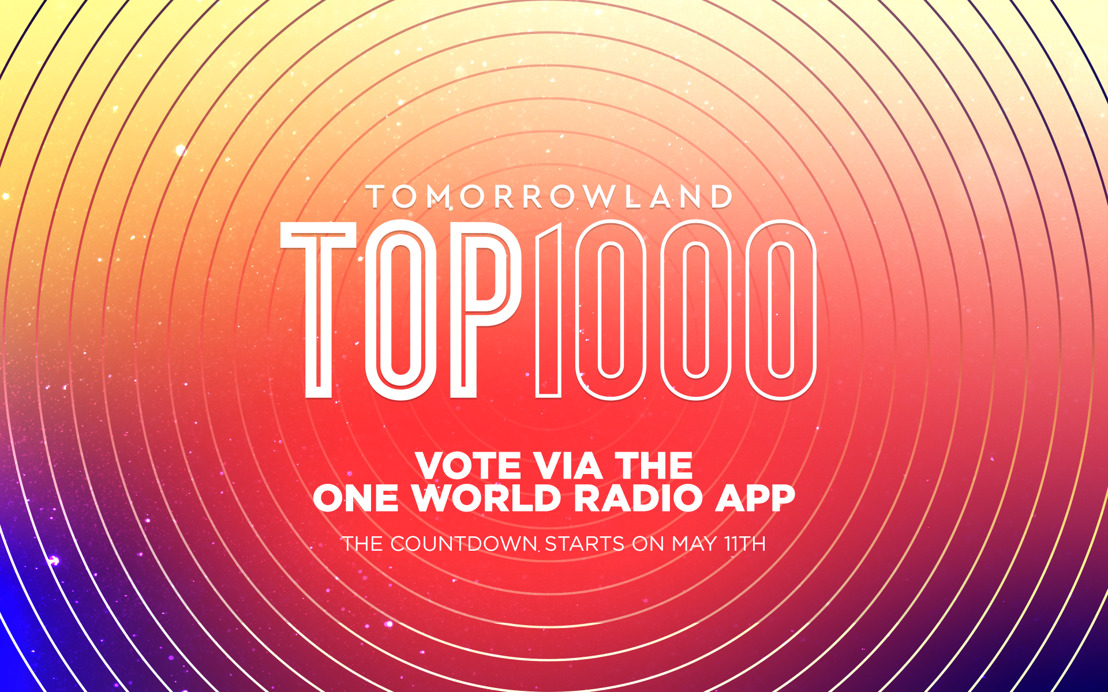 One World Radio kicks off the Tomorrowland Top 1000
Counting down the finest tracks in the history of Tomorrowland – vote now for your personal top 3 anthems
Monday, 27 April 2020 - The Tomorrowland Top 1000 returns! Following the raving success of last year's edition, the countdown of the finest anthems in the history of Tomorrowland is back for another year. One World Radio, the official digital radio & content platform of Tomorrowland, presents an overview of the most iconic tracks in the history of Tomorrowland and launches a voting poll to determine this year's list. As of today, the People of Tomorrow can vote for their 3 favorite tracks until May 8 on tomorrowland.com or with the One World Radio App. Listeners can tune in for a rundown of the absolute highlights of electronic music history from May 11 until May 22, counting down 100 tracks per day from Monday through Friday. The grand finale with the announcement of the ultimate number 1 will be played on May 22, featuring a very special host.
Last year the People of Tomorrow massively voted for their favorite tracks, resulting in an eclectic top 10 with iconic songs by Swedish House Mafia, Dimitri Vegas & Like Mike, Avicii, David Guetta, Martin Garrix, Alesso, Armin van Buuren, Afrojack and Nicky Romero. This year promises to be very exciting again, after a year in which music fans across the world were treated to lots of new music and records. One World Radio is now kicking off the Tomorrowland Top 1000 and is asking people around the globe to vote for their 3 favorite anthems. Expect to hear the best of the best every day with a mix of the biggest all-time radio hits, legendary classics and some of the past year's most popular bangers – celebrating the finest tracks in the history of Tomorrowland.
Vote for your number 1 between April 27 and May 8 on tomorrowland.com or with the One World Radio App.
Some of the world's best artists popped by One World Radio's studio to share their personal favorites for the Tomorrowland Top 1000.
House music legend Roger Sanchez picks a track of his own: "Another Chance is my own song and it's definitely one of my favorite tracks to play. It always gets the hands up at Tomorrowland."
The legendary Paul Kalkbrenner: "My favorite is 'Transformer 2 – Pacific Symphony'."
The Dutch producer and owner of Protocol Recordings Nicky Romero reveals that his own song 'I Could Be The One' with Avicii is his number 1: "There's so many good memories to this song and Avicii means a lot to me."
Techno queen Charlotte De Witte: "I'm voting for a very old-school track, 'Kai Tracid – Voyager'. It's a proper acid techno tune that brings the old-school back."
Dutch techno titan Joris Voorn votes for 'B.B.E. – Seven Days And One Week': "This is an amazing track from around the time I started DJing. I never played it at that time, because I was more into techno, but I think as a semi-trance track it has stood the test of time and it sounds better than most music today."
American DJ & producer Jauz selects one of his own tracks: "'Feel The Volume' is a song that I put out 5 years ago. It's my favorite just because I don't know if I would be here without that sound – that's what started everything for me. It will always have a special place in my heart. I can still play it today and people get excited about it, so that must mean it's kind of special."
Grammy Award-winning DJ and producer Afrojack's personal favorite is 'David Guetta - Titanium': "I co-produced this track and it is always one of the most epic moments at every Tomorrowland. It is one of those special moments when everyone comes together and is super happy."
The top 10 of the Tomorrowland Top 1000 in 2019
Swedish House Mafia - One

Dimitri Vegas & Like Mike, Moguai - Mammoth

Avicii - Levels

David Guetta ft. Sia - Titanium

Martin Garrix - Animals

Alesso ft. Tove Lo - Hero

Armin van Buuren ft. Trevor Guthrie - This Is What It Feels Like

Avicii & Nicky Romero - I Could Be The One

Dimitri Vegas & Like Mike ft. Martin Garrix - Tremor

Afrojack ft. Martin Garrix ft. Dimitri Vegas & Like Mike - Turn Up The Speakers
Vote for your number 1 between April 27 and May 8 on tomorrowland.com or the One World Radio App and have a chance to lay your hands on one of the special edition Tomorrowland & JBL Flip 5 speakers.